Serverless is convenient for regular runs, but there is some network response wait time, such as connecting to obniz, which is a waste of money.
To solve that, let's manage multiple obniz with a single lambda function.
The prerequisites are the same as for one car.
Make sure there is no confusion in the startup.
Consider the time limit.
Consider if you can't connect.
For more information, see AWS Lambda: Managing one obniz with 1 function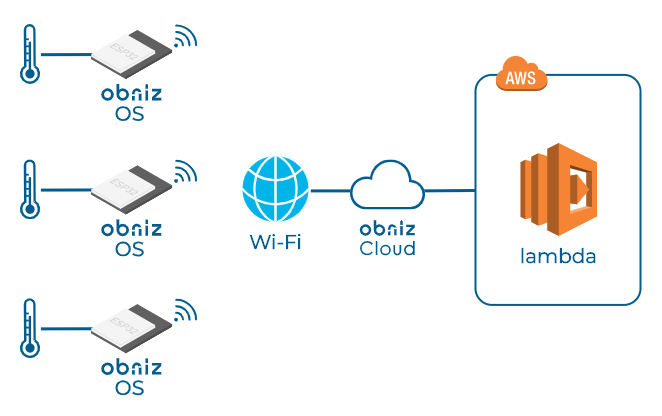 The way the program is written changes a bit.
Create an instruction function for one obniz as oneTask and complete the process in that function to do. Run it for a few minutes of obniz and wait until it's all done in Promise.all I will.
const Obniz = require("obniz");

const obnizIdList = [
  {obnizId: "obniz_id_1", accessToken: "access_token_1"},
  {obnizId: "obniz_id_2", accessToken: "access_token_2"},
  {obnizId: "obniz_id_3", accessToken: "access_token_3"},
  ...
  {obnizId: "obniz_id_99", accessToken: "access_token_99"},
];

// For one obniz
async function oneTask(targetObniz) {
  const obniz = new Obniz(targetObniz.obnizId, {auto_connect: false, access_token: targetObniz.accessToken});

  try {
    const connected = await obniz.connectWait({timeout: 3});
    if (!connected) {
      return new Error("obniz " + targetObniz.obnizId + " is not online");
    }

    const tempSensor = obniz.wired("LM35DZ", {gnd: 0, output: 1, vcc: 2});
    const temp = await tempSensor.getWait();
    obniz.close();
  } catch (e) {
    return e;
  }
  return null;

}

exports.handler = async (event) => {

  let tasks = [];
  for (const targetObniz of obnizIdList) {
    tasks.push(oneTask(targetObniz));
  }

  let results = await Promise.all(tasks);

  for (const result of results) {
    if (result) {
      const response = {
        statusCode: 500,
        body: JSON.stringify({status: "error", error: result}),
      };
    }

  }
  const response = {
    statusCode: 200,
    body: JSON.stringify({status: "success"}),
  };

  return response;
};